Previously on my blog, I said that I will post about why and how I lost my precious wallet with my important stuffs in it such as IC, license and also my two ATM cards.
Last week, I just finished my final paper on Thursday....
Fast forward to Friday please....
zzzzzzzzzzzzzz
zzzzz
zzz
Ok! It was Friday night where 3 of my friends wanted to go to clubbing at Barcelona.
My friend, Lau so eager to club in KL and he have it that night.
Went there around 1am and met up with LingHui and Shian Ru.
They two went earlier with some relatives of them.
Got a black label with discounted price. Ok lo.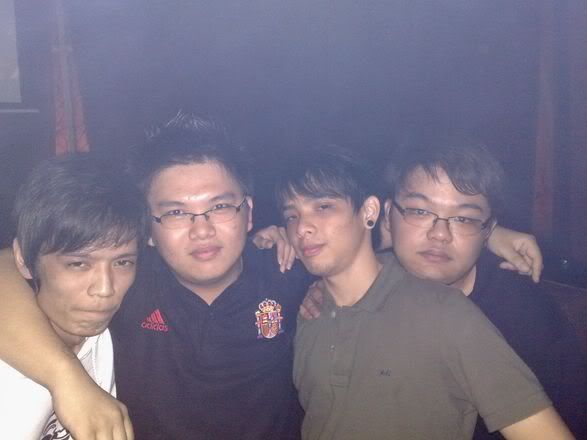 kanyin, me, dwayne, lau
we drink a little nia.
BUT hor...
the relative of either Ling Hui or Shian Ru, keeps on 'tio-ing' us.
Well, i kena the most. and i got KO before i could feel tipsy.
I GOT KO BEFORE I COULD FEEL TIPSY!
keong kan lo
''nmm cai lang'' at all.
based on those three of my friends, i dropped on the sofa and puked.
ok. then, i luan luan tarik 3sec and 10sec pure liquor.
fine lo, they didnt stop me. swt!
Then, puked lagi.
Then need to carried out of the barcelona.
Got 'thrown' onto roadside. Dwayne's friend (girl) pulled up my shirt and exposing my belly. FINE!
and she somemore, better not say it here.
and they took picture of she ''harrasing'' me. T_T
then mamak and headed home.
btw, dwayne got my HP beforehand i carried out, i think. Thanks!
but my wallet, no sound, hilang liao.
once reach home, i babi til 3pm. then 8pm only able to do police report.
DAMN lazy to type out and explain!!!
then once after done doing police report, then......
ROUND TWO!!!!
What is round two? i tell you guys in the next post.